Curriculum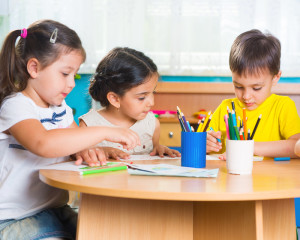 We offer programs for children ranging from infant to school age. If you have any questions about these programs, please feel free to contact us. New Horizons Daycare is a happy place where children are encouraged to explore and discover new things by interacting with others every day.  An important part of the preschool experience is learning through play — sharing, working together, and making friends. Our teachers are sensitive to each child's individual needs and provide a loving, caring environment. We pray before meals and encourage the children to pray for one another. We have worship, Bible time, arts & crafts, P.E., and library time to enhance the learning experience
Learning should be fun! Everything that we do at New Horizons Literacy Center, is interactive and promotes growing in skills required to be positive learners. A hands-on learning environment is encouraged, giving every child the full experience of designated topics. We understand that it's never too early to give children tools for success.
Every day the children will experience a time of worship that will not only enhance their artistic interest, morning worship and prayer is designed to guide the children to a daily living skill that will be with them forever.
Preschoolers are given opportunities to grow toward school readiness as we follow the Massachusetts Department of Education Early Childhood Program Standards and the Guidelines for Preschool Learning Experiences.
We fully integrate academic areas of study with biblical themes in exciting ways to ensure a lifetime of devoted children not only for their success but also their God given assignment. Biblical concepts and fundamentals are instilled at an early age with the purpose of aligning all of our children with their God given purpose.